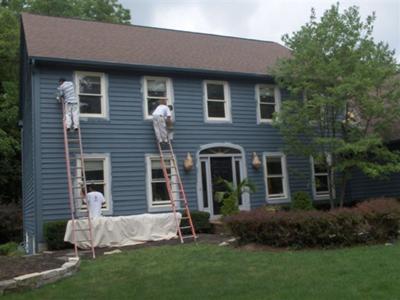 1. Mother Nature
Select the driest time of year in your region. Paint needs time to dry and will not adhere to surfaces that are moist.
2. Choose quality over price
Choosing better quality paint means you will paint fewer times over the years and get better coverage when you do. You may be tempted to skimp on paint to save money on a cheaper brand, but in the long run you are bound to spend more time and money.
3. Scrape and Wash
Paint will not adhere to a dirty or rough surface. Be sure to clean the siding and trim thoroughly and allow to dry. Then you will be able to sand or scrape any peeling paint to create a solid surface for the new paint to adhere to.
4. Paint does not stick to rotten siding
It is worthless to paint rotten wood siding or trim as they will continue to deteriorate. Replace the rotten siding or wood trim with new components then sand and prep for new paint.
5. Use primer
New paint technologies these days have combined paint and primer into one product. This will cut down on the number of coats you need to apply. This newer paint IS more expensive but may be comparable to buying primer and paint separately.
6. Combine cans of paint
Mixing multiple cans of paint together in say a 5 gallon bucket will help to ensure a uniformed color is applied to your home. This is called boxing the paint and is a method the pros use.
7. Paint from top to bottom
Working from the top to the bottom will help to control streaks and work with gravity rather than against it. This method will allow you to feather out mishaps in the direction that you are working.
8. Seal it off
Properly close your paint lids with a rubber hammer to make sure that the paint does not dry out. You can also add a plastic wrap film to ensure a tight seal.